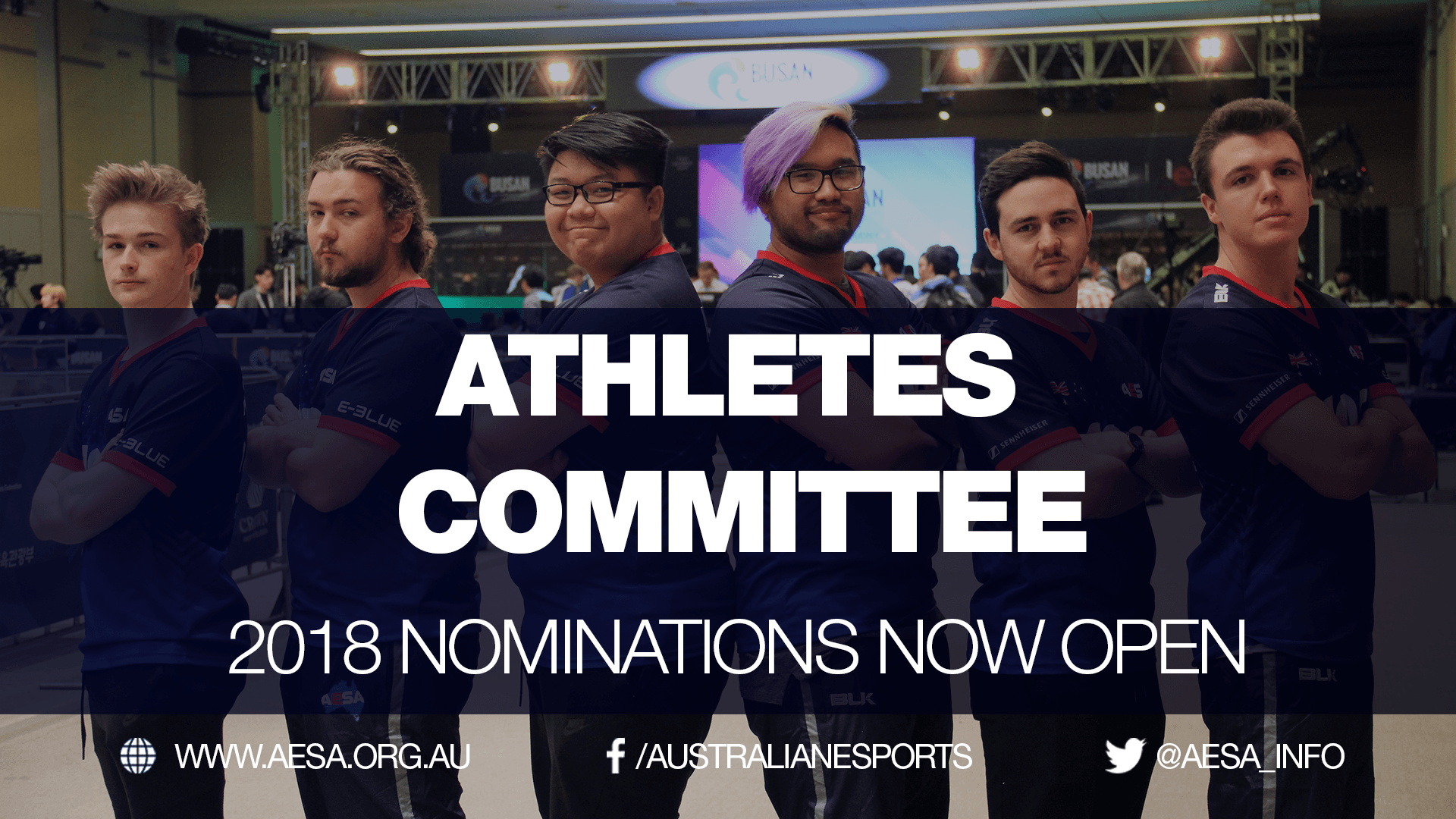 ·         The AESA Athlete's Committee comprises of 7 members with Eileen Bell elected by the AESA as the starting Chairperson and Gabe Najarro sitting as a starting Committee Member.
·         Nominations are now open for public submission, closing on the 15th of April 2018.
·         Voting will close on the 1st of May 2018 with successful committee members announced.
The Australian Esports Association is proud to announce that the nominations for the 2018 Athlete's Committee are open!
For more information head to: http://www.aesa.org.au/committees/athletes-committee/
The Athlete's Committee is an initiative to provide a representative body and voice for athletes whom are a crucial component of esports.
This committee will work with the AESA and other stakeholders to improve the governance, sustainability, inclusiveness, safe environment and fair play for all in the esports industry.
It is clear that athletes participating in esports face a number of challenges including the protection of rights, support networks, and receiving due recognition and respect from the broader community for their achievements.
The committee will advise the AESA in facing these challenges in addition to a set of core goals that will further the development of esports in Australia.
The Athlete's committee for 2018 begins with Eileen Bell as the Chairperson and Gabe Najarro the 2017 Team Australia captain, as a starting Committee Member. The committee will comprise of a total of seven members targeting diversity.
Eileen has been involved in Esports for over 15 years. She was the first professional female gamer in Australia and was the undefeated pan-Asian champion for the first ever world-wide televised Esports show – the Championship Gaming Series. She has lectured at Singapore University on linking management concepts and the cognitive aspects of professional gaming, has been featured in the Australian Financial Review, BOSS magazine and PwC publications, and is extremely passionate about advancing women in Esports and linking gaming and corporate industries.
Gabe represented Australia in Tekken 7 at the International Esports Federation's 9th Esports World Championship in Busan, South Korea 2017. He is a passionate gamer and advocate for the fighting game community, with deep interests in the community and desire to support his peers.
If you or someone you know is a suitable fit for the Athlete's Committee please fill out the nomination form.
All nominations will be reviewed and posted for public vote by the 15th of April 2018.
Voting will close on the 1st May 2018.
Follow the Australian Esports Association at our Facebook page: www.facebook.com/australianesports or our Twitter page: www.twitter.com/aesa_info
If you would like to discuss, make a submission for an amendment to or have any queries about the AESA's Athlete's Committee please contact: info@aesa.org.au
With attention to:
The Australian Esports Association
Subject: AESA Athlete's Committee