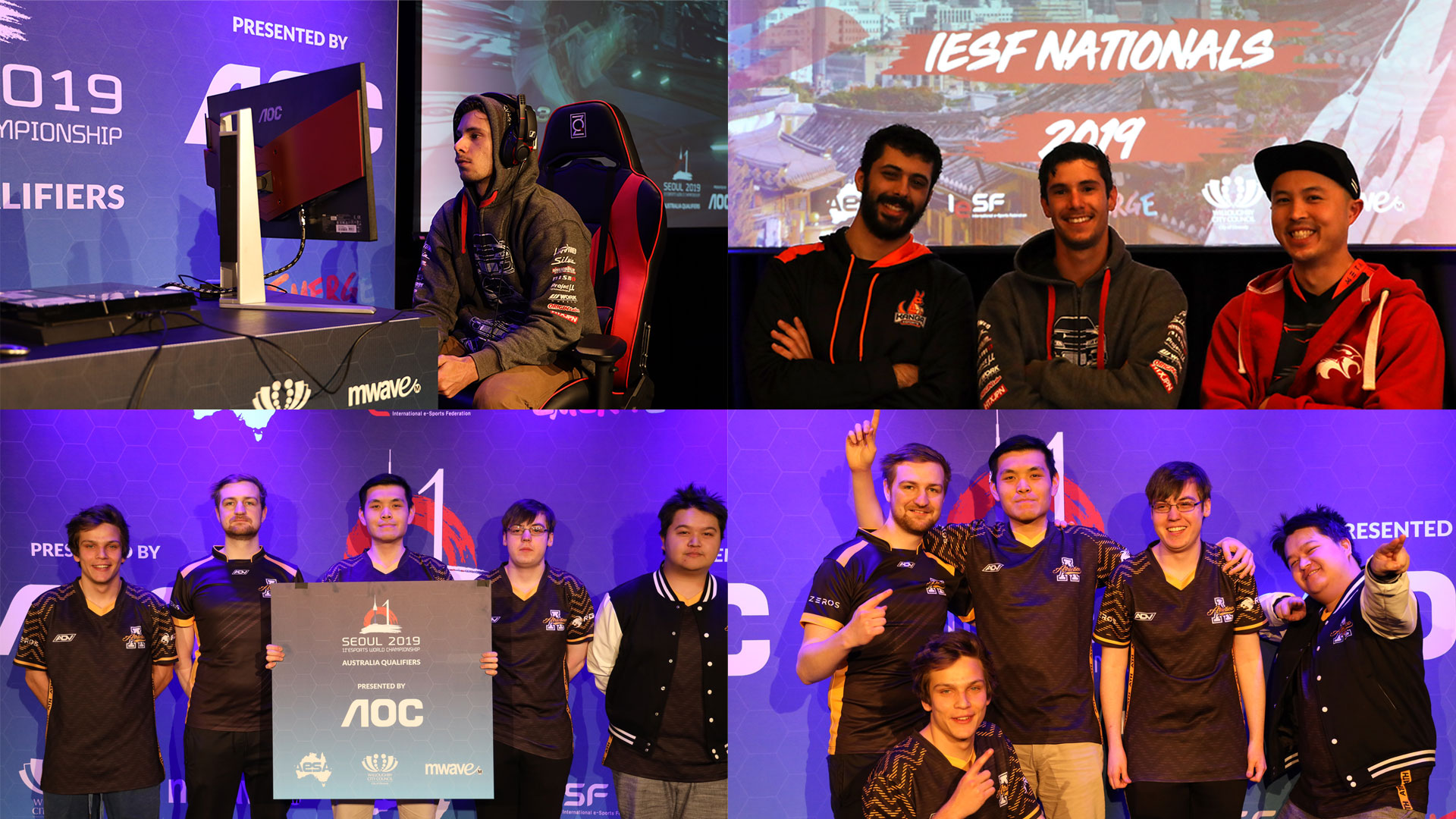 We're excited to announce the representatives who will form Team Australia for the 11th Esports World Championships in Seoul, South Korea this 11-15th December 2019. The Esports World Championship is hosted by the International Esports Federation (IESF) annually drawing the world of esports together under a banner of unity and peace.
Our Australian esports athletes will face over 50 other nations across Dota 2 and Tekken 7 across four days of competition, competing for medals and national pride.
Announcing Team Australia 2019
The athletes representing Team Australia this year are:
In Dota 2:
Team Athletico, being Andrew 'Andro' Hockleys, Tuan 'TEKCOR' Nguyen, Jae Hyung 'XemistrY' Lee, Kyle 'spag' Winfield, and Nicholas 'Splicko' Capeski
In Tekken 7:
Josh 'Synth' Larue
About the AESA National Trials
Each year, AESA hosts National Trials to determine the athletes that will represent Australia at the IESF World Esports Championships. The National Trials are an open for all and inclusive format, that ensures players of all skill levels from amateur through to professional have an opportunity to represent their nation. Athletes that are selected to represent Australia go on to represent the country on the world stage, in the only globally national-representative esports tournament in the world.
Thank you to everyone who contributed to the 2019 AESA National Trials
The AESA is a volunteer organisation, and each year the National Trials are only made possible by the kind efforts of volunteers, donating esports community, and contributing sponsors.
A special thank you to all the participating players, volunteers, and time donated from the esports community.
Thank you also to: AOC Monitors, Presenting Partner of the 2019 AESA National Trials; Willoughby City Council, for hosting the National Trial finals at the Chatswood Emerge Festival Street Fair; Mwave Australia and Intel for providing the Dota 2 gaming PC infrastructure 2; to CouchWarriors QLD & VIC and Pika in WA hired to host the State qualifiers for Tekken 7; to the Australian Esports League for donating staff and equipment to host the finals; to Youssef Faddoul hired to assist with the Tekken 7 finals; and to casting talent Mitchell 'HowlSpartan' McLeod, Ivo 'THE1IVO' Da Silva, Chad 'AsurasAbyss' & Petros 'PetroRose' Kleoudis.
We look forward to your ongoing support as Team Australia prepares for the 11th World Esports Championship!