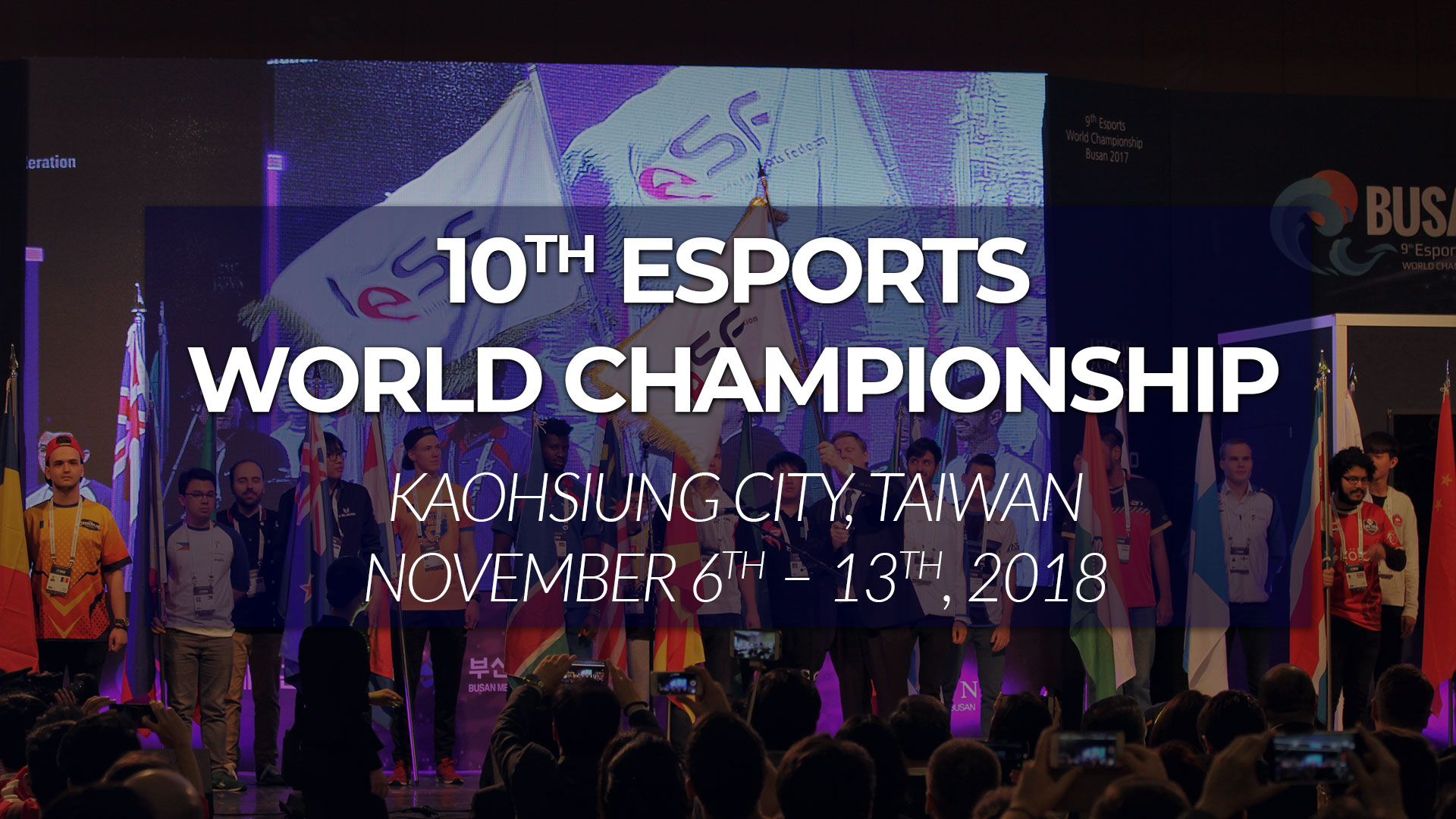 Submissions are now open to host the IESF National Trials for the 10th Esports World Championship Kaohsiung 2018!
The IESF World Championships is a annual event where national teams from across the globe attend and compete to determine who has the best players. Not only are players competing for national pride but also for either a Gold, Silver or Bronze medal and some prize money as well.
Established in 2008, the IESF has grown from just a few nations to now over 40 members, many of whom are officially recognized by their respective governments. Australia has been a member since 2013, with the AESA as its representative, working towards official recognition by our federal government.
This year's IESF World Championship will be held at the Kaohsiung Arena in Kaohsiung City, Taiwan from the 6th-13th of November. Hosted by the Taiwanese Esports Federation, it is anticipated that over 500 players will gather in Kaohsiung City to compete across the three official titles:
– Counter-Strike: Global Offensive;
– League of Legends; and,
– Tekken 7.
About the IESF National Trials
The main objective of the IESF National Trials is to ensure that the best players are selected to represent the country as Team Australia through an open for all and broad qualification process.
One of the core goals is to allow all players of all skill levels throughout the community an opportunity to participate and to elevate esports, advocating for its recognition as a real sport featuring along side traditional sports in mainstream media.
This year the IESF National Trials must conclude by the 31st of August 2018 for all game titles.
Players are required to provide detailed information that includes a valid passport and other private information in adherence to the AESA Privacy Policy to be eligible to represent the country on the world stage.
Expressions of Interest
The AESA welcomes public submissions to host the 2018 IESF National Trials for either one of the games or for all of the games.
Opening and Closing Dates
Public submissions are open from the 1st of May 2018.
The Expressions of Interest can be submitted over a four week period.
Expressions of Interest will close on 31 May 2018.
Who is eligible to apply?
All esports and gaming event promoters, planners and organisations are welcome to make a submission.
Eligible applicants include:
Local, State or Federal government authorities;
Incorporated, community-based, not-for-profit sporting organisations (clubs and associations whose primary purpose is to organise sporting activities/deliver sport programs);
Educational organisations (such as schools, TAFEs and universities) in conjunction with local councils and local or state sporting entities;
Legal entity, private enterprises.
What will make a successful submission?
The AESA are looking for submissions that can demonstrate:
An ability to reach a broad player base;
Provide an open for all and inclusive environment;
Execute preliminary qualifies either online or offline;
Execute a live grand final event;
Industry best practice;
Media coverage;
Broadcast, content and live production;
Understand the technical requirements to host CS:GO, League of Legends or Tekken 7;
Demonstrate robust revenue and cost models;
Adherence to IESF terms and conditions and rules;
Adherence AESA policies and regulations.
SUBMISSIONS ARE NOW CLOSED