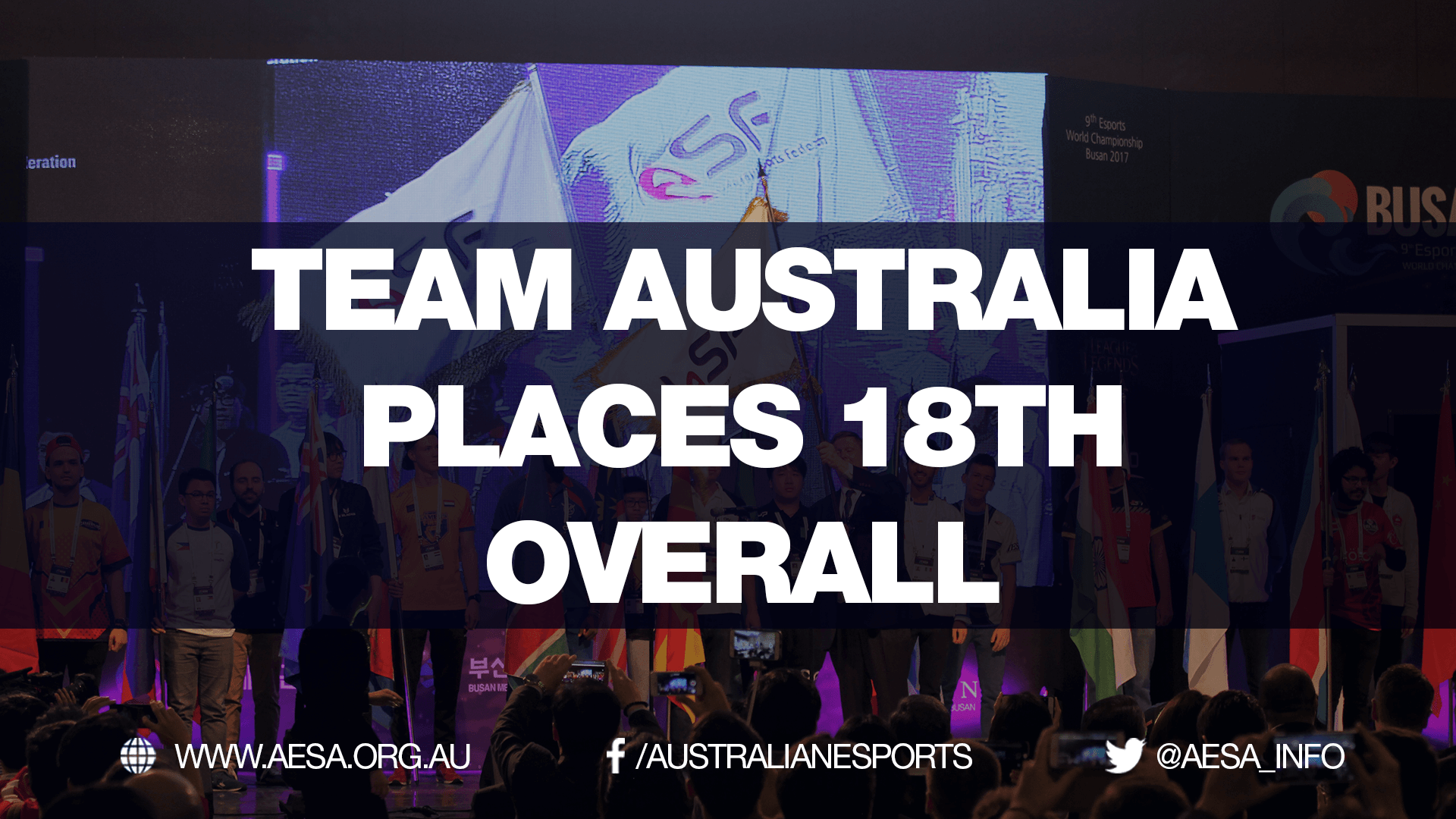 Team Australia has placed 18th overall at the 9th Esports World Championship in Busan, South Korea held from the 8th-12th November, 2017.
The International Esports Federation's (IeSF) World Championships is a annual event where national teams from across the globe attend and compete to determine who has the best players. Not only are players competing for national pride but also for either a Gold, Silver or Bronze medal and some prize money as well.
Established in 2008, the IeSF has grown from just a few nations to now over 45 member nations, 25 of which are officially recognized by their respective governments and National Olympic Committee's (NOC). They share the core goal of developing policy and regulation for esports across the globe. With the added goal of promoting and elevating esports into traditional sports societies such as the Olympics. Australia has been a member since 2013, with the AESA as its representative, working towards official recognition by our federal government.
The AESA is a non-profit national sporting organisation established in 2013 and is the official member representing Australia at the IeSF. It is working with federal government agencies to formally recognise esports, with a focus on developing Athlete welfare, rights and support.
This year's IeSF World Championship was held in Busan, South Korea from the 8th-12th November 2017. Hosted by the Korean Esports Association (KeSPA) and IESF with over 300 players attending to compete across the three official titles:
– Counter-Strike: Global Offensive;
– League of Legends; and,
– Tekken 7.
Team Australia placed an overall 18th with the Counter-Strike: Global Offensive squad finishing 5th after being defeated by Romania on day 3 with Team Australia putting up a valiant fight; losing map 1 mirage 13-16 and map 2 overpass 6-16. In Tekken 7 Team Australia finished 22nd after Gabe 'XXMFFNTP' Najarro played exceptionally well however failing to progress out of groups.
You can catch coverage from Team Australia at the 9th Esports World Championship on the Australian Esports League's twitter page, rewatch the moment we caught up with the CS:GO team after they beat ISRAEL 16-6 in match two of their group.
Gabe 'XXMFFNTP' Najarro who represented Australian in Tekken 7 and also served as the Team Captain faced an exceptionally tough group that included three of the strongest seeds.
You can rewatch the moment we caught up with him after his only victory for the event, taking down SWEDEN in his third match.
President of the Australian Esports Association, Darren Kwan commented, "I am proud of the efforts by this year's national squad, they played with good sportsmanship and spirit. Ultimately, we were not able to take any medals, though I believe this is still a memorable experience for the players and fans at home."
Team Australia is proudly supported by the AESA and sponsored by AOC Monitors, Sennheiser, E-Blue, Origin PC and BLK Sport for 2017. Check out the message from Team Australia about their journey and what it means to represent the nation in esports.
Team Australia was selected through the 2017 AEL National Trials, broadcast by Fox Sports Australia featuring on www.foxsports.com.au/esports which commenced with preliminary stages running from the 29th July until 27th August, with Tekken 7 comprising of four state based offline events and Counter-Strike: Global Offensive comprising of online events.
The top competitors from the preliminary stages progressed to the grand finals event which featured on Fox Sports Australia's new esports section over the weekend 15-17th September, hosted by the Australian Esports League.
In Counter-Strike: Global Offensive the Chiefs Esports Club bested Kings Gaming Club 2-1 in the best-of-three grand finals. You can re-watch the action on Fox Sports Australia here: 2017 AEL Nationals Tekken 7 Grand Finals.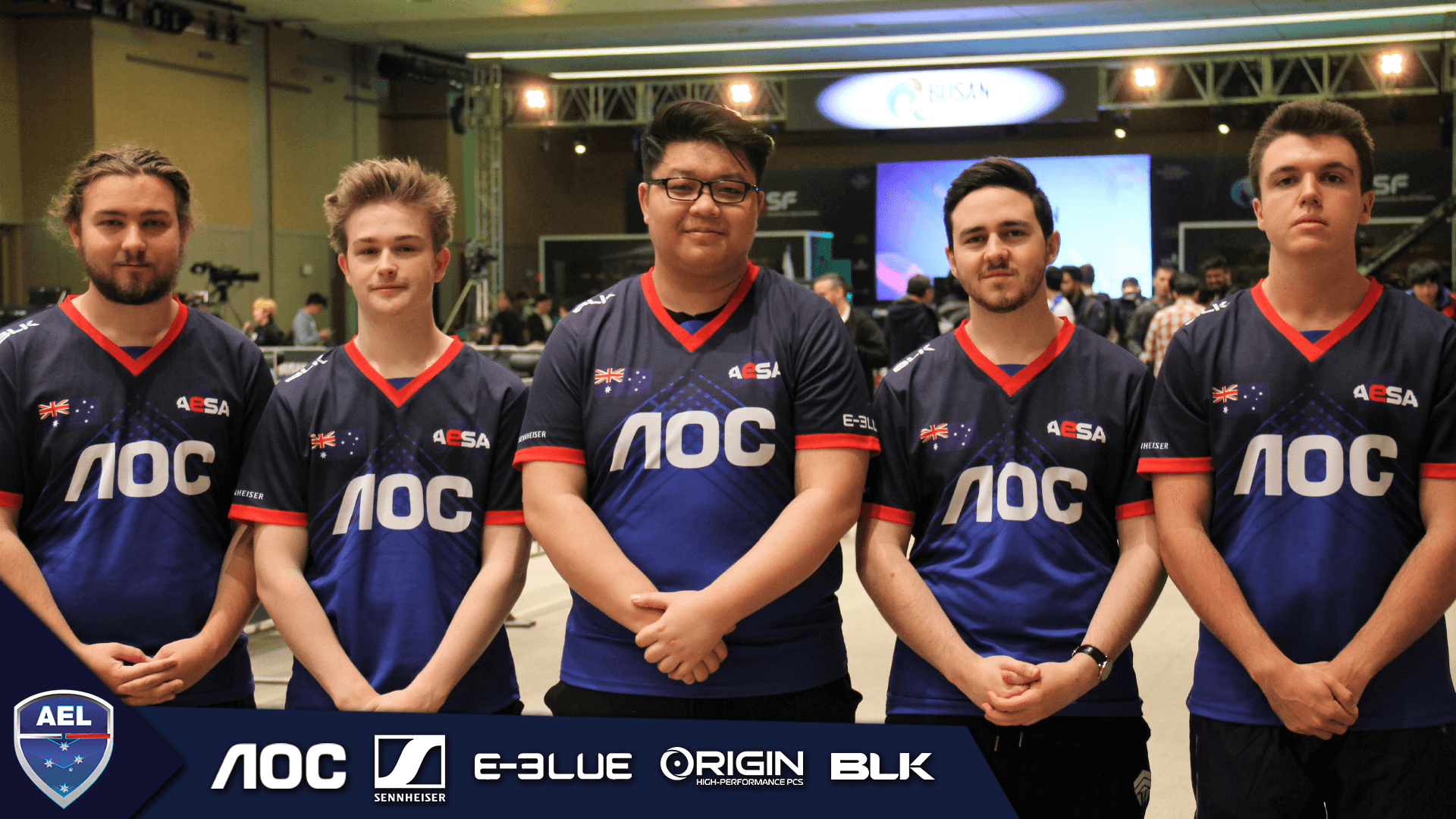 From left to right: Tyler 'tucks' Reilly, Alistair 'aliStair' Johnston, Peter 'pecks' Nguyen, Liam 'malta' Schembri and Oliver 'Dickstacy' Tierney – competing in CS:GO
In Tekken 7 Gabe 'XXMFFNTP' Najarro came out on top for NSW in a nail-biting grand final. You can re-watch the action on Fox Sports Australia here: 2017 AEL Nationals CS:GO Grand Finals.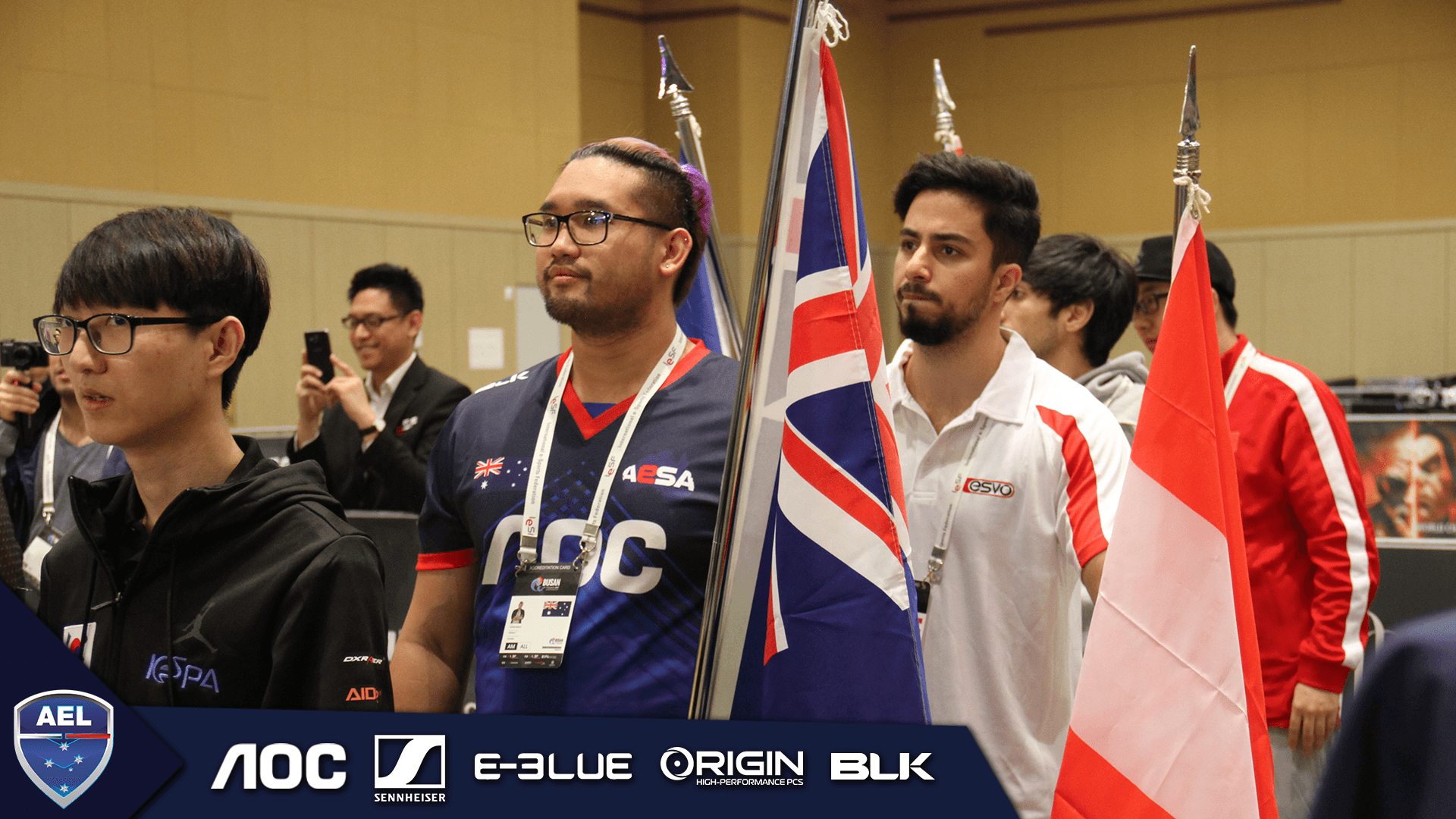 About Esports
Esports is one of the fastest growing social phenomenon in the world with the audience growing from 90 million in 2014 to over 120 million in 2017. It is anticipated that by 2019 this audience will exceed 150 million, and grow from a USD 500 million industry in 2015 to a USD 1.1 billion industry in 2019.
In Australia alone there are 1.5 million esports fanatics with 78% being 18-35 out of a total gaming population of 16.5 million persons.
The Asia Pacific region accounts for 44% of this market of which Australia sits in a prime position to participate in this audience as a global leader in eSports.
You can follow the Australian Esports Association on facebook and twitter.
To find out more about the Australian Esports League you can visit www.ael.org.au or follow them on facebook and twitter.