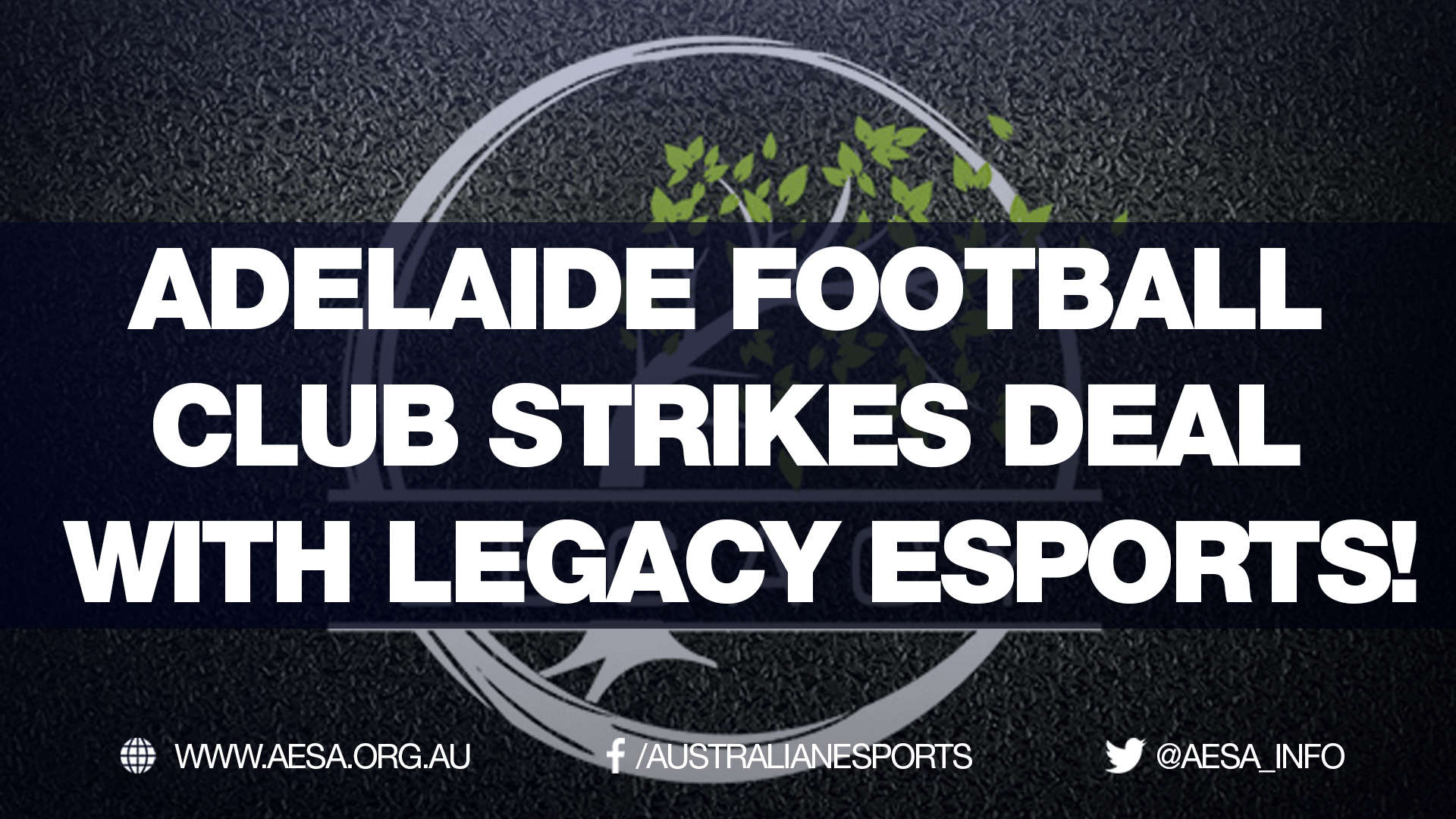 In a ground breaking deal for Australian esports the Adelaide Football Club have entered into an agreement to acquire Legacy Esports.
This move by the Adelaide Football Club represents a great opportunity for expanded expertise to enter the esports scene in the management of teams, along with the expectations of how tournaments are operated.
Sydney-based Legacy eSports is one of eight teams competing in the League of Legends Oceanic Pro League (OPL), which provides a direct path to the global contest, the League of Legends World Championship, which last year attracted more viewers than the NBA finals.
Interest in esports has been growing with the rise in popularity of esports, with a number of traditional sports teams and personalities investing in teams overseas. Including the hockey team IFK Helsink, NBA teams Philadelphia 76ers, Miami Heat, former NBA players Magic Johnston and Shaquille O'Neal, baseballers Alex Rodriguez and Jimmy Rollins, and NFL legend Joe Montana, along with soccer powerhouses Manchester City, Paris Saint-Germain, FC Schalke and AS Roma.
Crows Chief Executive Andrew Fagan comments, "It is hugely popular with millennials and there are enhanced opportunities for current and new corporate partners to engage with younger, digital and social media savvy audiences," Fagan said.
Athletes can look forward to improving conditions in the organisations they play for as investment and improving standards continue. Something Fagan believes the AFC can provide, "We will bring our expertise in elite and professional sport to support the high-performance development of the Legacy players who are driven to achieve success in their field."
This is a major milestone for Australian esports, over the past twelve months a number of traditional sporting bodies, clubs, research groups and marketers have taken a keen interest in esports. Each assessing the rapid rise in popularity and commerce of esports. This is a signal that esports is being taken seriously, the Adelaide Football Club is one of the largest Australian sporting clubs with a large community footprint and their investment in esports will have a rippling effect.
Darren Kwan the founding president of the Australian Esports Association comments, "We have long advocated for esports to be broadly recognised by the mainstream and government, this move by the Adelaide Football Club marks a historical milestone in the Australian esports story. Bringing additional recognition and exposure to esports. Additionally the benefit the AFC will bring to the athletes will be remarkable, providing years of experience in managing and developing professional athletes to Legacy Esports for their next run at the OPL title."
"Though I am cautious about governance here, as the OPL does not have good governance mechanisms in place like salary caps and could see some early imbalance. My hope is that this propels the standards of esports in Australia forward, driving governance the we at the AESA have been pushing for many years."
The AESA is aware of a number of sporting bodies and clubs that are actively interested in the esports industry.
Read more about this historic moment in Australian esports at: http://www.afc.com.au/news/2017-05-17/crows-strike-esports-agreement
You can follow the Adelaide Football Club at https://www.facebook.com/adelaidecrows or https://twitter.com/adelaide_fc
You can follow Legacy Esports at https://www.facebook.com/LegacyOCE or https://twitter.com/LegacyOCE
Follow the Australian Esports Association at our facebook page: https://www.facebook.com/australianesports or our twitter page: https://www.twitter.com/aesa_info
If you have other esports news to share with us please contact us via email: info@aesa.org.au
With attention to:
The Australian Esports Association