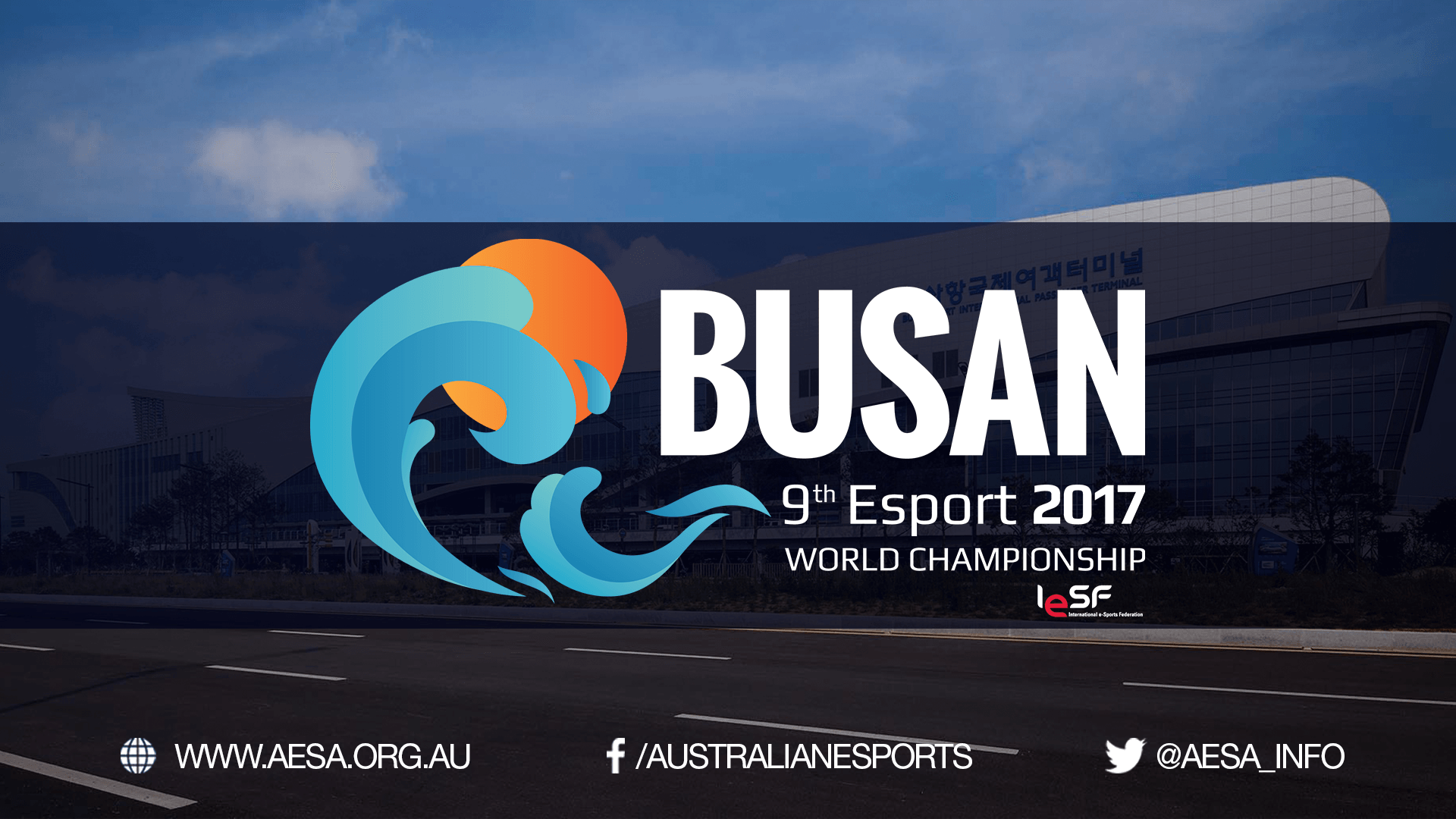 The Australian Esports Association (AESA) has been proudly supporting Australian esports talent and a national team since 2013.
This year the International Esports Federation (IeSF) has announced that the 9th Esports World Championship will be hosted in Busan, South Korea from the 8th-12th of November 2017 with anticipated participation of over 500 athletes from 40+ nations.
The IeSF is a global esports federation that comprises of 46 members, 25 of which are nationally recognized by their respective government, sports authority and Olympic committee. IeSF's mission is to further esports on a global scale, in unity with each national member around the world. IeSF wants to see a world where esports is given the same recognition and respect as other sporting codes. The AESA is the recognized member for Australia, since 2013. Further information about the IeSF can be found at their website: www.ie-sf.org
The three official titles that have been announced by the IeSF are:
Counter-Strike: Global Offensive
League of Legends
Tekken 7
The Australian National Qualifiers will be open for all Australian citizens and Permanent Residents. Further details will be announced later this month with information covering the terms and conditions of entry, registration process and detailed schedule.
The AESA operates the National Qualifiers in strict adherence IeSF policies and in compliance to good governance structure, maintaining a fair play environment and to the best practice standards of conduct as expected in any sporting code in Australia.
The best athletes in the National Qualifiers will be selected to join Team Australia, representing the nation on the global stage in a highly prestigious and respected position.
Last year Australia was represented by 11 athletes in Counter-Strike: Global Offensive, League of Legends and Hearthstone; placing 9th overall against 35 other nations.
The team was selected after a grueling qualifier process that saw over 250 participants across all titles, culminating in the Grand Final event which was televised in an Australian esports first on national free to air channel SBS Viceland.
UPDATE:
Tournament information is now available, please see the following links for further details:
The top teams and players from CS:GO and Tekken 7 will be invited to Sydney to complete the Grand Final matches. League of Legends will be played entirely online.
All winners will be invited join Team Australia and represent the nation on the world stage! The total prize package is worth over $45,000 which includes all flights, accommodation and transfers to Busan, South Korea in November 2017.
Follow the Australian Esports Association at our Facebook page: https://www.facebook.com/australianesports or our Twitter page: https://www.twitter.com/aesa_info
If you have any queries relating to the National Trials please feel free to contact us at: info@aesa.org.au
With attention to:
The Australian Esports Association